2021 Flu vaccination programme
The start date for this year's flu vaccination programme is 14 April.
The first week of the campaign will be focused on:
The second week will be extended to:
pregnant women (any trimester)
patients under 65 years who are eligible for a funded vaccine
children aged 6 – 35 months who are eligible for a funded vaccine
(see https://www.fightflu.co.nz/ for eligibility criteria)
Following this period (28 April to 31 December 2021) vaccination may be extended to the general population.
It is important that we follow the priority schedule because it provides a chance to immunise over-65 year-olds ahead of the flu season and the COVID-19 vaccine becoming available for this group.
We will be able to take bookings for our flu clinics from 22 March 2021.
Flu injections 2021
Influenza Immunisation Programme 2021
The latest information we have from the Ministry of Health is that final details of the 2021 influenza immunisation programme are still being confirmed. They will be finalising the start date of the programme soon based on shipping and delivery schedules of the vaccine. Thank you for your patience.
Coordinating immunisation programmes
The influenza immunisation programme is one strand of the health sector's work to protect New Zealanders against vaccine preventable diseases in 2021. Health providers will be co-ordinating business as usual immunisation with the rollout of a COVID-19 vaccination programme.  As part of this planning, vaccination plans will be developed that take into account the current recommended spacing of at least two weeks between receiving COVID-19 and influenza vaccines.

Measles Immunisation Campaign for 15-30-year olds
We have a window of opportunity before the influenza programme starts and the COVID-19 vaccination rollout gets underway to focus hard on improving measles immunity in our 15-30-year olds.
If you're aged 15 to 30 you may not be protected against measles. Measles is a serious disease that can make you very sick. It's about eight times more contagious than COVID-19 so it spreads fast.
Getting immunised is the best way to protect against measles – it's easy and it's free. Call into the health centre for your free vaccination or phone us on 06 343 9050 and speak to a nurse.
When you immunise against measles, you don't just protect yourself. You also protect your whānau, your community, and future generations from harm.

17 February 2021 – Ministry of Health Update
Vaccine rollout
As announced by the Prime Minister, we expect the rollout of the first Pfizer/BioNTech vaccines for our border and managed isolation and quarantine workers (about 12,000 people) to get underway on 20 February.
We are working closely with District Health Boards who will be organising the administration of the vaccine, and with employers and other relevant agencies.
Once we have vaccinated border and MIQ workers, we will focus on their household, followed by other frontline health and disability sector workers. We are working with DHBs and sector groups to finalise who will be part of this group. This will be followed by other at-risk groups. We will provide you with more details on this as soon as they come to hand.
Other vaccination programmes
It is important to note that COVID-19 vaccines cannot be administered within two weeks of an influenza vaccine, or four weeks of any other vaccine.
Sequencing of COVID-19 and influenza vaccines
We will be developing vaccination plans with providers that take into account the current recommended spacing of at least two weeks between receiving COVID-19 and influenza vaccines, shown in the following example schedules:
Example 1
Day 0 – Influenza
Day 14 – COVID-19 dose one
Day 35 – COVID-19 dose two
Example 2
Day 0 – COVID-19 dose one
Day 14 – COVID-19 dose two
Day 35 – Influenza
COVID-19 Immunisation Register (CIR)
The web-based national COVID-19 Immunisation Register (CIR) to record COVID-19 vaccinations is now operational for the first vaccinations getting underway on Saturday.  The CIR allows vaccinators to quickly and accurately record the event at the site of vaccination.  Notifications from the CIR to a person's GP is in development and should be available from mid-March. Once this is operational, notifications of those vaccinated so far will be sent to general practices.
COVID-19 Vaccine FAQ's
View a list of frequently asked questions here: covid-19-vaccines-faqs 19.02.21
E-prescribing and Repeat Prescriptions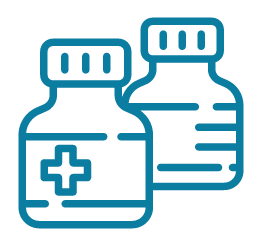 Repeat prescriptions enable you to stay up to date with your medication without needing to see your doctor every time you need to refill a prescription
The best way for you to request a repeat prescription is through your Manage My Health account.
You can also leave a message on our prescription line by calling 06 343 9050.
Aramoho Health now processes most prescriptions electronically. E-prescriptions are sent directly to the pharmacy where you want to pick up the script.

   It is very important that you let us know which pharmacy you want the script sent to.
From 1 July 2020, the fee for standard repeat prescriptions will be $16.50. Standard repeat prescriptions are processed within 48 hours.
From 1 July 2020, the fee for urgent repeat prescriptions will be $25.00. To request an urgent repeat prescription you must speak to one of our nursing team.
You may be asked to see a doctor or nurse before you are able to get a repeat prescription. This is to ensure your medication is still appropriate.
If you need to talk to someone about a prescription please call us on 06 343 9050 and ask to speak to a nurse.
Join our Facebook Page!
To stay up to date with our latest news and notices, follow us on facebook